One platform to streamline all your
experiences.
Phynart is a comprehensive solution that empowers you to elevate various aspects of your life. Experience the ultimate convenience and peace of mind for a truly elevated living experience.

Safe haven.
Imagine never having to worry about getting up to answer the door again. With our smart doorbell, you can see and speak to visitors from the comfort of your couch. No more struggling to move around or missing important deliveries. Apollo Lite is designed with your mobility in mind, giving you the freedom and independence you deserve.
Discover Apollo Lite

Always be home, even 
when you're not.
Stay informed with instant security notifications on your mobile. Install our smart doorbell to communicate with visitors through the Phynart App!
Discover Apollo Lite
Where Love Stands Guard.
Manage access to your home remotely, ensuring it's always secure. If you have a large family, with elders and children, our smart locks are tailor made for you.
Discover Door Locks

Home that knows you.
Ensure a stress-free vacation with our wide range of products. Create the illusion of someone being home while you're away by remotely controlling your lights and setting up custom schedules. Relax and enjoy your time off, knowing your home is protected.
Discover products

Seamless routines. Effortless mornings.
Personalize your daily routines with Phynart. From waking up to a hot shower with the geyser already on to other tailored preferences, experience the ease and comfort of smart living, perfectly in sync with your lifestyle.
Discover products
One click to end 
your light-fright.
When you're rushing out the door, the last thing you want to worry about is whether you left the lights on. With our smart controllers, you can easily turn off all the lights in your home with just one click through the Phynart application, giving you the peace of mind that your home is secure and you're 
saving energy.
Discover products

Tranquil nights. Uninterrupted sleep.
Experience the ultimate relaxation as you wind down for the night with our smart home technology. Our smart switches and plugs allow you to effortlessly turn off all unnecessary lights and appliances in your bedroom with a single touch or voice command. Sleep soundly, wake up refreshed, and embrace each day with boundless energy.
Discover products

Switch spaces,

superfast.

Watch over your home from anywhere on the planet in just a few clicks. Switch to any room or space you'd like to view in your home in seconds. It's super fast, super smooth, and super easy.
Different controls for every

family member.

Phynart app gives you ability to set different user roles to the family members like - guest, owner, friend and set who controls what.

Visit our flagship store today to experience our ecosystem.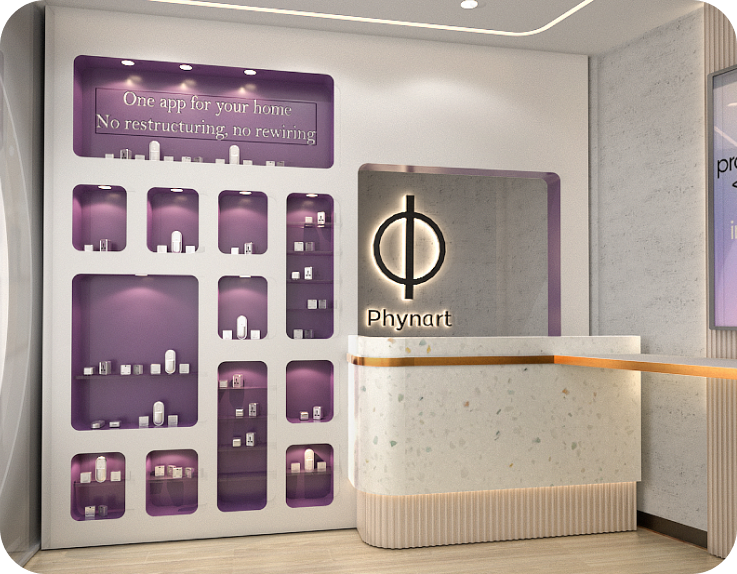 Store address
Phynart

Phoenix Marketcity, 2nd Floor, Nagar Rd, near PVR cinemas, Pune, Maharashtra 411014
11 AM to 10 PM
Get Direction
Store contact
+91 89757 50040
sales@phynart.com